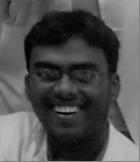 Dr. Arabinda Ghosh
Assistant Professor Department of Botany,
Guwahati University,
Guwahati, Assam,
India.
E-mail: [email protected]
Tel: +91-9678629146
Dr. Arabinda Ghosh completed his PhD Biotechnology at Indian Institute of Technology Guwahati. Expertise in molecular and microbiology techniques, SDS-PAGE, 2D-Gel Electrophoresis, chromatography techniques: Thin layer chromatography, Affinity chromatography, High Pressure Anion Exchange Chromatography, Gel Filtration Chromatography, Mass spectroscopy (LC-MS systems), Gas Chromatography, FT-IR, Dynamic Light Scattering (DLS), Fluorescence Spectroscopy, Nano Drop, HPLC, PCR, Microplate reader. Have knowledge in Circular Dichroism spectroscopy, DNA sequencing, Blotting techniques, Fluorescence Activated Cell Sorter (FACS) etc. His publication are about 16 and attended to 25 conferences around the world
Protein Engineering, Molecular Biology, Biochemistry, Bioinformatics, Industrial Biotechnology.